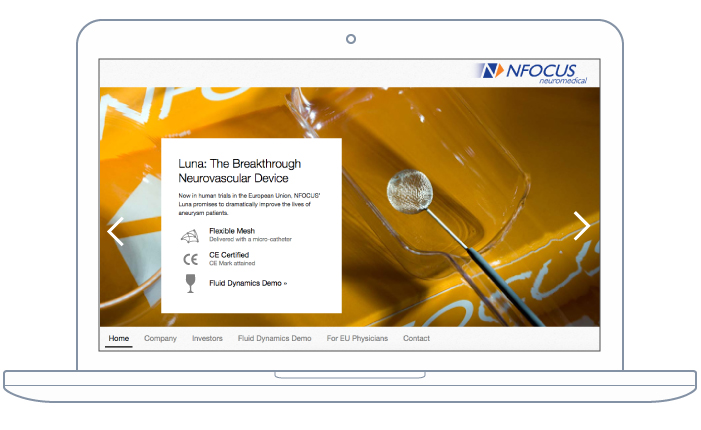 Palo Alto-based NFOCUS Neuromedical is the creator of LUNA, a breakthrough device to save the lives of brain aneurysm patients. A brain aneurysm is an abnormal bulging outward of one of the arteries in the brain.
NFOCUS asked BKW Partners to redo their website. The site is a key component of their online brand — and, in fact, their entire brand — and what they had was no longer telling their story effectively. It was also tricky for them to manage the site and grow it to meet their needs.
Working with NFOCUS' VP for R&D, Sharon Lake, and President, Martin Dieck, we developed a strategy. It became clear very quickly that a simple, eye-catching site –one that would stand out in the staid medical devices industry–would have a powerful impact in meeting the company goals.
With the always-terrific help of BKW Creative Network member Aaron Adiego, we put together a super-simple, highly communicative WordPress-based site. The site is now highly flexible. As NFOCUS' communications needs change over time, they can easily add content and adjust the communications focus of the site.
The product photos are absolutely key to this site. They were taken by San Francisco-based Mark Leet who has incredible equipment for super up-close detail shots. Aaron did the retouching and adjusting to make them work perfectly on the site. Mark also took the cool Fluid Dynamics Demo pics– a fun, effective way to show the product in action. BKW Creative Network member, Kindrid Parker, shot video (not yet on the site) of team members in action. Stills from that shoot are on the NFOCUS Company page.