iMedia Names BKW Forerunner Rassak One of "10 Hot Creative Agencies to Watch"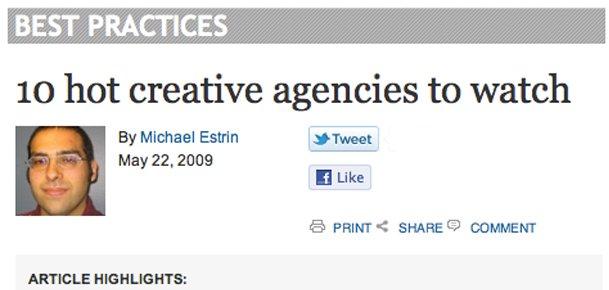 The full story from yesterday is here. The highlights here:
Agency Details: Fancy technology aside, Rassak's primary focus is keeping brands like software maker BigFix and Slide in conversations with real people.

Sometimes that means inventing a fictional presidential candidate, and other times it means asking a simple question: How will people use this product?
Something Cool: Word-of-mouth can be a difficult thing to wrap your arms around. After all, it's about getting impartial people to identify so much with a brand that they actually pass along the message to their friends.This photo of Tom Cruise and Katie Holmes may look like the run-of-the-mill paparazzi shot, but it's not. The picture actually came from the Consumer Electronics Show, where Slide engaged Rassak to experiment with getting bloggers at high-profile events to upload their photos onto the image-sharing site.The cool part? Although Rassak had its own bloggers in attendance, this picture actually came from a user.

Biggest Challenge Facing Digital Right Now? "Disintegration between brilliant creative people and brilliant technologists," explains Principal and Creative Director Barak Kassar. "[Disintegration] between algorithmic approaches and warm, human approaches; between transformational and informational appeals; between branding and direct selling; between channels; between online and offline; between top-line and bottom-line; between the desire and need to control brands and the desire and need to accept that control always was in the hands of consumers; between hand-crafted experiments and massive branding at scale.Digital doesn't only change things on a medium-by-medium basis, it changes everything fundamentally — because, above all, digital is a tool to integrate. The challenge is there aren't many people with diverse enough backgrounds thinking about this."