I bought a fancy deodorant this week. I've been trying to use more natural products, but getting the balance right between being chemical-free and smell-free is tough. I read about Native, and convinced myself that their $12 deodorant was worth a try (the free shipping really pushed me over the edge.) After my order went through, I received the best e-mail confirmation I've ever received. Even if their product turns out to be a wash, this e-mail would almost be worth the $$$.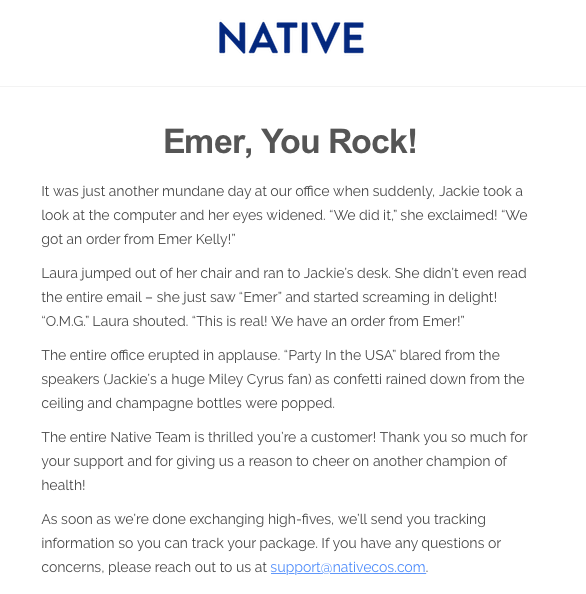 I get about 100 emails per day, so any move a company makes to be more creative in their communications earns them an A+ in my book. I'm super excited to see what happens when they finish high fiving (as of writing, the high-five sesh has been ongoing for about 3 days 😳) and send me my tracking info.
The e-mail reads:
Emer, You Rock
It was just another mundane day at our office when suddenly, Jackie took a look at the computer and her eyes widened. "We did it," she exclaimed! "We got an order from Emer Kelly!"

Laura jumped out of her chair and ran to Jackie's desk. She didn't even read the entire email – she just saw "Emer" and started screaming in delight! "O.M.G." Laura shouted. "This is real! We have an order from Emer!"

The entire office erupted in applause. "Party In the USA" blared from the speakers (Jackie's a huge Miley Cyrus fan) as confetti rained down from the ceiling and champagne bottles were popped.

The entire Native Team is thrilled you're a customer! Thank you so much for your support and for giving us a reason to cheer on another champion of health!

As soon as we're done exchanging high-fives, we'll send you tracking information so you can track your package. If you have any questions or concerns, please reach out to us at support@nativecos.com.
[update April 24th] this just came in. the fun continues…