It's not their male-ness that makes my sons and husband love sports and watch sports and talk about sports and get sports alerts on their phones that demand their immediate attention and subsequent commentary. It's not because they are guys, that they throw athletes' names around and expect me to know who they are talking about when it comes to trades and deals and injuries and burgeoning Twitter beefs between rivals.
It's because of the connection they feel to their team. A connection I feel too. And a connection that is by no means accidental. It's an emotional connection. An analog connection. But it's also very much a digital one.
Even for the most casual sports observer living in the Bay Area, it's been hard NOT to care, and get swept up in the fervor around the Golden State Warriors.
The team is a regular topic of discussion with the ladies in my book club. We even had one of our "meetings" in a bar where we could watch a playoff game. (Yes, we also discussed the book. it was "The Diver's Clothes Lie Empty" by Vendela Vida and it was a fascinating read).
And when coincidentally seated at a restaurant table next to superstar Steph Curry, and his wife Ayesha Curry, a star in her own right, it took every ounce of my self-control to keep it together and leave them alone. Steph graciously photobombed the birthday girl's party picture, and turned a table full of moms into legends with our children.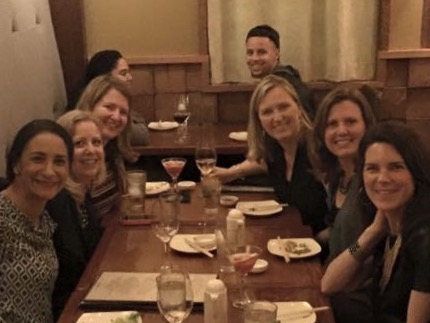 Now, weeks after the series against Cleveland has ended, the tattered yellow flags still wave from cars as they creep along highways 80, 280, 580, 680, 880 and 24; fans are lining up to peek at the trophy as it makes its way around the Bay Area, and the team has been busy shoring up its talent-heavy roster for next season.
It should be no surprise that the home team for Silicon Valley gets the power of  digital to  further fans' emotional connection to the team. The team – the organization and members of its all-star squad – are a tech savvy bunch. Steph Curry and teammate Andre Igoudala recently announced the first Players Technology Summit (with Bloomberg) that will take place in August and encourage collaboration among athletes, and leaders in business, technology and venture capital.
Earlier this year, the Warriors partnered with Feed.fm in San Francisco to allow fans access to interviews, analysis and player's music playlists with the NBA's only online radio station, Warriors Sound.
San Jose-based Zoom Video brought live streaming.
The post-season brought us the Warrior's chat bot that offered users stats, game updates, and even opportunities to purchase playoff tickets and merchandise through the Facebook Messenger platform, and in-stadium services for fans who attend the games.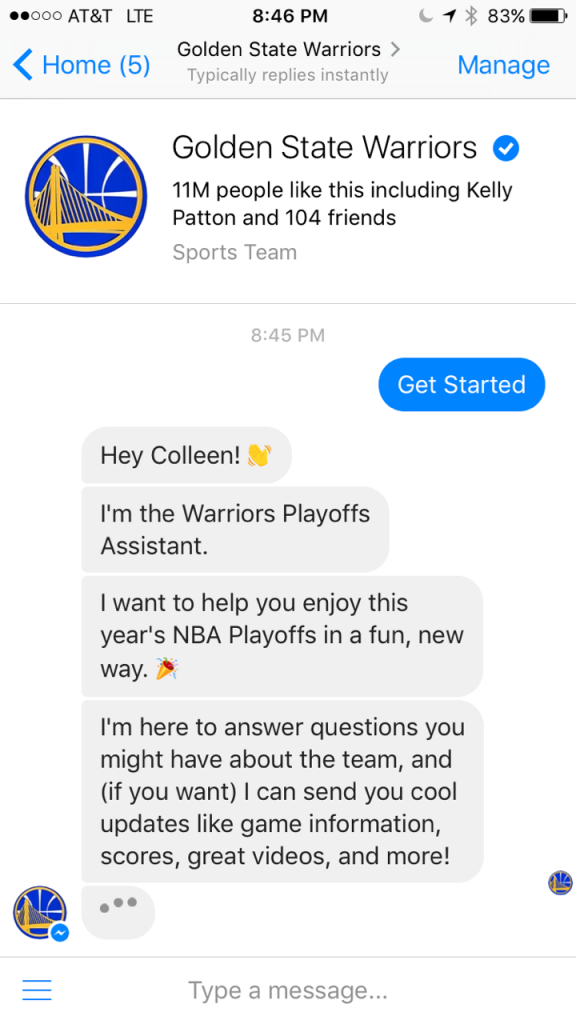 Earlier in the season, game attendees received VR viewers from the team's technology innovation partner, Accenture, all so fans can have a peek at a day in the life of a Warrior using their mobile app.
The Warriors promise even more technical wizardry when they move across the bay to their new home in San Francisco, and have been looking for fan input on more ideas for connection, through a #fannovate initiative.
I would love to be annoyed with it all, but fans are hungry for connection with what has become a loveable group of guys that happened to be world champions, and the team has been smart  enough to accommodate and encourage that connection.
The Warriors are basically that kid in high school who was great at sports, good looking, super smart, and really nice, and you wanted to hate them but you couldn't.